News & Reviews
---
October 11-13, 2013. I will be in Denver Colorado for the RMAF 2013, room 1110. New speaker, ART DECO TWO WAY will be revealed to the public for the first time in Denver this year.
---

July 12, 2013, Audio/Video Revoltuion Review of the Art Deco Coax Speakers
---
Starting September 1st I Proudly announce the use of LUNDAHL transformers and V Cap capacitors in our products!
---
Bogdan Audio Creations will be at AXPONA (Audio Expo North America) in Chicago, IL on March 8-10, 2013. Room 834.

---
Bogdan Audio Creations will be at the 2012 Rocky Mountain Audio Fest October 12-14. Room 8002.

---
Bogdan Audio Creations will be at the Audiokarma, AKFest 2012 on April 28-29 in Novi, Michigan.

---
A review from Michael Zisserson of StereoMojo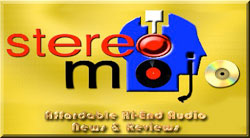 ---
Bogdan Audio Creations will be at the 2011 Rocky Mountain Audio Fest in Denver, Colorado. Marriott Tower - Level 10, Room 1026.

---
SIXMOONS.com Review, March 2011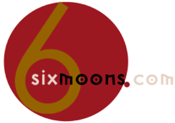 Bogdan Audio Creations Catalina reviewed by Glen Wagenknecht.
---
T.H.E. Show 2011. January 6-9, Flamingo Hotel. Las Vegas, Nevada.
Bogdan Audio Creations, it is an handcrafted speaker company will present speaker model PETRA full range three way design 28 Hz-100.000Hz and CATALINA two way monitor 38Hz-100.000Hz.
---
2010 Rocky Mountain Audio Fest. October 15-17.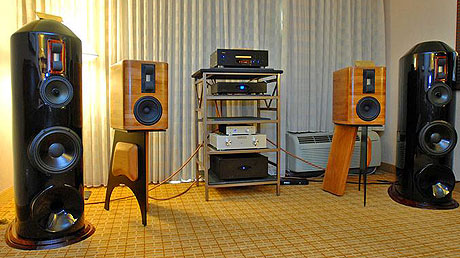 Reviews and photos from the 2010 Rocky Mountain Audio Fest held at the Denver Marriott Tech Center Hotel. See the Bogdan Audio Creations' Petra full range floor standers and the new Catalina two way monitors with Hi-End Perreaux amp.
---
2010 Midwest Audio Festival. July 9.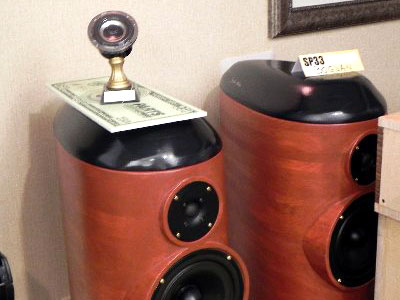 Bogdan Audio Creations model "Born in USA" speakers took 1st place at the Speaker Design Competition in the Open Driver, Division II Category.
This competition took place at the 2010 MidWest Audio Festival in Springboro, Ohio. The event was sponsored by Parts Express and Dayton Audio.
---
AKFest 2010. Sponsored by Audiokarma.org. May 1-2.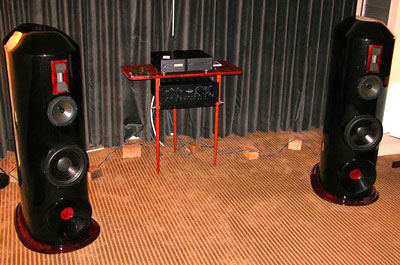 Reviews from the AKFest 2010.
"Perhaps one of the most unique speakers at the show was the Bogdan. Hearing it on Saturday with a really packed room and music that was very poorly recorded would have sent you running to Radio Shack. Fortunately, on Sunday I was able to hear the system with only a few people there and listen to music I was familiar with for a good 15 minutes."
"This is a unique speaker because it is totally hand built and finished and no CNC machines are used. The speakers on Saturday were playing through a 32 year old Sansui integrated amplifier (AU-919) and a Pioneer CD player with cables that looked, well less than very "basic". Believe me, there was nothing the least bit fancy about the components, wiring or setup. On Sunday a tube amp of probably 25 wpc was being used with the same CD player and cables. Hearing the speaker with music I was familiar with and power that was probably still well below what the speakers could use simply knocked your audio socks off, they were superb."
"They had all of the prerequisite dynamics, transparency, speed, detail and the usual well used reviewer words plus they were musical and very natural. I would love to hear them on a big tube system in a larger room. Regardless of the room, they clearly had the best bass and bass control of the show without any boom. I believe he said it took him three months to build them. They look like large lipstick tubes and are quality finished, weighing a little over 200 pounds each. These speakers may have some "unique" qualities in the conventional sense, but I do not think you will ever think about that while you are listening to them."
"This is the Bogdan Audio Creations Petra. This large speaker weighs in at 300 pounds. It is constructed with laminated MDF layers and certain inside chambers are filled with sand. It uses a RAAL tweeter and Eton mid range and Eton 11? woofer. I heard it with a tube integrated and it sounded really good, although I thought it could have benefited from more watts."
"This room was all about the speakers, more so than any other room."
"Bogdan Audio Creations-Petra. Made of 50 layers of stacked MDF layers, with a minimum thickness of 2" and filled with 65 lbs of sand in each unit - all resulting in a net weight of 300 lbs each! The drivers are fastened to aluminum blocks inside the cavity, per the designer this was a cost no object exercise."
"Bogdan Audio Creations is a one man custom speaker company with the one model shown. The speaker enclosure is made up of many vertically stacked pieces of MDF which the maker hand cuts with a jigsaw. The outside is hand sanded to a smooth finish, then coated with Bondo, primed with two coats of automotive primer and finished with Mercedes Mocha automotive paint and Clear Coat. Interior chambers are filled with sand. They take about three months to make. The level of fit and finish was very high. High quality drivers are used and they sound surprisingly good given that they were being driving with a 1978 Sansui AU-919 integrated amp. I think the speakers deserve to be paired with better components if for no other reason than to establish their credibility as a viable alternative to some of the offerings of major manufacturers at this price point."
Markus-
"I thought the Bogdans were extremely impressive. Building those with a CNC would have been quite a task, but with a jigsaw... In any case, I thought they sounded great. The bass quality was fantastic. Probably due in no small part to the non-resonant nature of the cabinet, and the fact that they were filled with 60 pounds of sand. It made me realize how much cabinet sound is in my DIY speakers, even with lots of bracing. This is one of the very few rooms where I stopped listening to gear, and just started listening to music. Amazing job this guy did."
Olson Jr.-
"WOW all these great pictures and not one of what I thought were Bogdan Audio Creations?"
"Large black speakers made up of about 50 sections of MDF, all cut with a jigsaw then glued up, internal chambers filled with sand, curvy shape....guy had a photo book of the build process.... Bueller~Bueller~Bueller."
"Gotta agree on the bass, powerful but not overpowering. I really liked these speakers, thought I would find something more on the net about the build but nothing so far. Anyone pick up any info?
Is this gentleman a member?"
---
2009 Midwest Audio Festival
Bogdan Audio Creations took first place in the Speaker Design Competition in the over $200 category with the Petra Speakers.