Welcome to Bogdan Audio Creations
Audio Speakers from Bogdan Audio Creations are made from a passion about creating an unparalleled audio environment to immerse the listener into a world of natural and vibrant sound.
These speakers are designed and handcrafted one at a time, intertwining modern and innovative acoustic engineering. Bogdan utilizes fine craftsmanship to build and hand shape a speaker that will offer a hard to forget audio experience that is easily integrated into a modern home environment.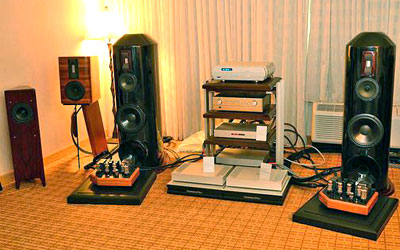 Bogdan Audio Creations at the 2011 Rocky Mountain Audio Fest in Denver, Colorado.
---
Bogdan Audio Creations 70's Tube Monobloks
The Bogdan Audio Creations 70's tube Monobloks are hand built, with point to point wiring, using vintage transformers made in the US. They utilize four 6L6, a 6j5 and a 6sn7, with solid American cherry base. Each pair is one of a kind, with custom parts and all have the same auto bias circuit design and tubes. The Monobloks put out 70 watts at 8 ohms. Retail price is $3995.